The Director's Cut, Vol. 2-14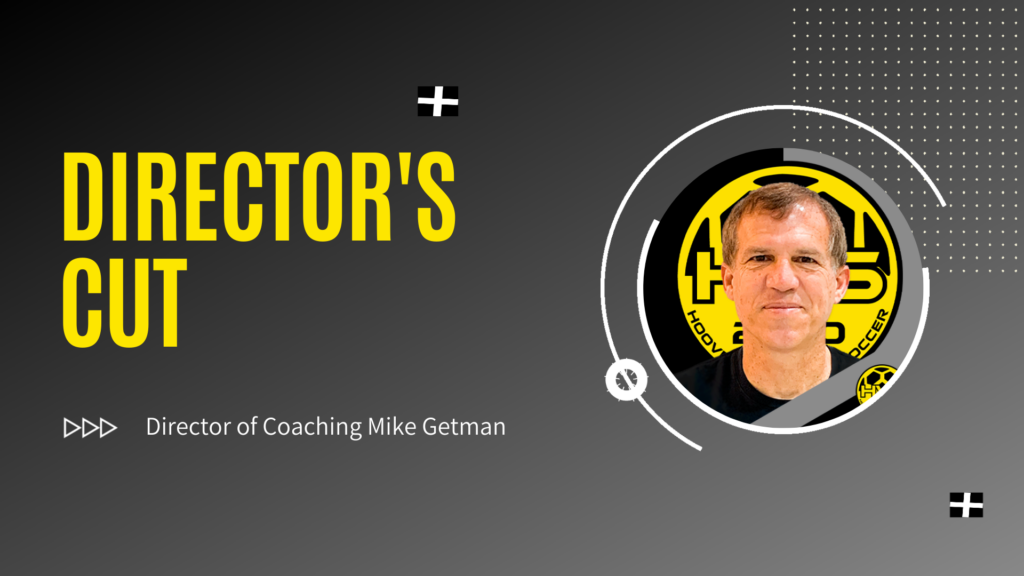 HVS has been making great progress all year.  We moved up to higher levels of competition for all of our teams.  And while there have been some lessons to learn, in large part we have won our share while learning and developing at a terrific pace. 
This weekend our 2010 boys played in the Hoover Havoc U13 bracket and played 11v11 for the first time. They got better with every game and made some great progress. The 2009 NPL boys played very well throughout the Hoover Havoc and had a fun match with our 2010 boys to finish the weekend 1-1-1. Our 2008 NPL boys also played in the Havoc and performed very well while playing up an age group. Our 2009 MLS boys played a great game on Sunday and while the result did not go their way, I thought this was perhaps their best performance of the year. Our 2008 MLS boys won back to back games on the weekend and were completely dominant in Sunday's match with Lanier SC. Our 2007 MLS boys tied KSA 1-1 and continue to have a very strong spring. 2006 MLS boys won their second game in a row and are looking very strong as they head soon to the MLS NEXT Flex Finals in Maryland. 2005 MLS boys had the weekend off. 2004 MLS boys dropped a hard-fought game to KSA but have also qualified for MLS NEXT Flex Finals in Maryland in May. Our 2010 girls won their State League game this weekend and are currently in first place. Our 2009 girls had a great weekend making it all the way to the final of the Hoover Havoc. Our 2008 girls had the weekend off but are in the midst of a very strong spring campaign.
As we get towards the end of our seasons, it is natural to start looking ahead to Tryouts and all that comes with it. Sometimes that means dealing with the anxiety of tryouts. I wanted to give everyone a few thoughts on how to handle the emotions and stress that often come around this time of year.
1. Focus on what you control. Sleep well, eat well, and make sure you are well hydrated.
2. Train hard leading up to tryouts so you will feel prepared and at your best. Don't skip practices.
3. At tryouts be yourself and play the way you normally play. You can't be someone new and succeed. Just be you.
4. Don't be afraid of making mistakes. All players make mistakes and tryouts won't be different from any other training or game. Accept that you are human and just let the mistakes go without worrying too much.
5. Remember that your coaches already know you and you already know them. This is a big advantage over any new players trying out and should allow you to relax and just be yourself.
6. HVS has already selected you for one of our teams. You are a good player and should play with confidence!
7. As parents, please remain supportive of your child throughout the whole process, understand that decisions made now are not permanent and that encouragement and support will help your child reach their full soccer potential – which is what we all want to happen.
As you know HVS offers 1 team in each girl's age group and 2 teams in each boy's age group. There are differences in all of these teams.
MLS NEXT teams mostly train 4 times per week and typically have 1 game on the weekend (U13 will train 3 times). MLS NEXT teams play a 10 month season. Because it is a 10 month season there is a bigger time commitment and a bigger financial commitment. NPL teams will mostly train 3 times per week and typically have 2 games on each weekend. DPL (girls) teams will mostly train 3 times per week and typically have 2 games on each weekend. Our U12 teams will play in the SCCL this year and we will have 2 boys and 2 girls teams. Each will train 3 times per week and have 2 games on the weekend.
Remember, Michael Jordan, the greatest basketball player of all-time was cut from his High School team. Your success at one tryout does not determine your success in soccer or in life. It is just a snapshot of where you are today. HVS offers different teams and our parent clubs Hoover SC and Vestavia Hills SC also offer opportunities for players to continue their growth and development.
I hope everyone continues to have a great spring season. I look forward to seeing you on the fields!
Mike Getman
HVS Director of Coaching