The Director's Cut, Vol. 2-15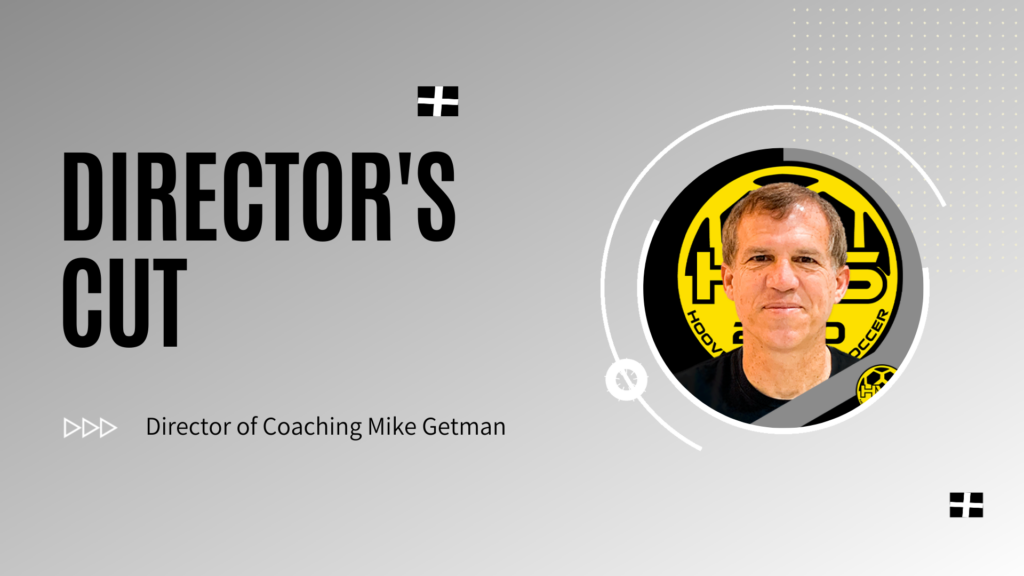 The Spring Season is coming to a finish and what a year it has been. For the first time, High School age boys had the choice to play club ball in the spring. No one knew for sure how the players would feel and whether this was something they wanted. It was a great success. A few of our MLS NEXT players did go back to their High School teams, but the majority played with HVS throughout the spring. Many other players joined our club for the spring because they wanted more than their High School team could provide. In the High School age groups, our 2007 team has gone 4-2-2 in league play this spring. Our 2006 team has gone 5-7-1 for the spring. The 2005 boys started the year strong but have struggled a bit down the stretch. Our 2004/03 team has gone 5-3-1 in league play this spring. For the first ever spring season for these age groups, I consider year 1 a great success.
In the younger age groups, our teams have continued their strong run of success. Our 2008 girls are 13-2-2 and have qualified for DPL National Playoffs this summer! Our 2009 girls made incredible progress this year. They tied 6 games and learned so much! The future is very bright for this hard working group. The 2010 pre-DPL girls went 3-2-2 for the spring and will play in the Futures Cup to finish the year.
Our 2008 MLS boys went 5-8-1 for the spring including games against Atlanta United, Charlotte FC, and Nashville SC of MLS. Our 2008 NPL boys are 2-5-0 in league play this spring with 2 more games to play. The 2009 MLS boys improved dramatically over the spring and showed they can compete. The 2009 NPL boys have been very competitive while making great improvement and still have 2 more matches to play. The 2010 pre-MLS NEXT boys have gone 8-3-1 for the year in league play and finished 2nd in the league.
Tryouts and our pre-Tryout camp are just around the corner. Make sure to register for each by going to our website: HooverVestaviaSoccer.com.
We have announced our staff for next season, and I am very proud of the group we have put together to lead our teams forward.
League Coach
DPL
2004/05 Kat Nichols
2006 Kat Nichols
2007 Luke Whittle & Amy Disko
2008 Luke Whittle & Amy Disko
2009 Oleg Sinelnikov
2010 Oleg Sinelnikov
2011 Luke Whittle, Misa Espinoza, Amy Disko
MLS NEXT
2004/05 Justus Griffin
2006 Mike Getman
2007 Carlo Schiavoni
2008 Justus Griffin
2009 Corey Smith
2010 Carlo Schiavoni
2011 Jose Espinoza, Chris Blight
NPL
2004/05 Moises Roman
2006 DeAndre Robinson
2007 Chad Thomas
2008 Will Nsougan
2009 Will Nsougan
2010 DeAndre Robinson
GK's
Corey Jones
Seth Torman
Jack Hudson
Athletic Performance
Jake Rufe
Director of Coaching, Mike Getman
Director of Operations, Luke Whittle
Executive Director, Tomas Fox
Executive Director, Rocky Harmon
Boy's College Liaison, Mike Getman
Girl's College Liaison, Kat Nichols
Registrar, Amy Disko
Administrator, Jason Woodall
Athletic Trainer, Kenny Davis
The 2021/22 season was a great success no matter how you measure it. Our players and our teams have developed and improved so much it is amazing. We are all excited to see what 2022/23 has to offer.
We will also have a club wide Zoom Meeting on Thursday at 8:30 PM to talk about HVS programing and to answer questions. https://us02web.zoom.us/j/86923293421
Sincerely,
Mike Getman
HVS Director of Coaching